ATM Banking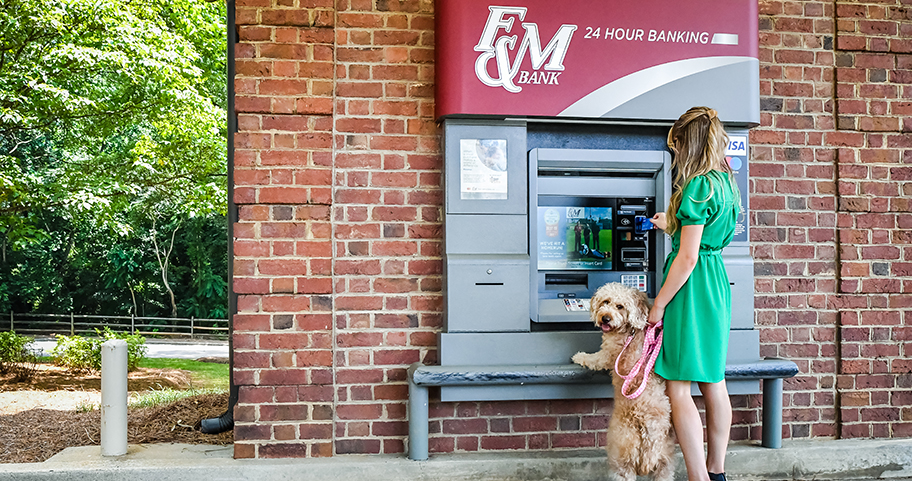 Sure, F&M ATMs are a quick way to access money. But their benefits extend well beyond fast cash to include a variety of financial management tools.
Use F&M ATMs to:
Deposit to or withdraw from checking, savings and other accounts

Transfer funds between your accounts

Make balance inquiries on your accounts

Make payments on F&M Bank loans
Frequently Asked Questions
Is it safe to make deposits at the ATM?
Absolutely. Not only is it convenient, but it's as secure as handing cash or a check to a teller. You can choose to receive a receipt that documents your transaction or use Online Banking or Mobile Banking to monitor the activity.
Can I split a deposit between accounts?
You'll need to deposit all funds into one account initially. Using Online Banking or Mobile Banking, you can then split the deposit however you want in a matter of minutes, once it's posted to your account.
Are languages other than English available at F&M ATMs?
We offer transactions in either English or Spanish.
Will Online Banking show a picture of the checks I deposit at the ATM?

No; however, you will be able to see the amount deposited and that it was an ATM transaction through Online Banking.
No. One of the biggest perks of F&M ATMs is that they allow you to complete transactions on your schedule, 24 hours a day. However, please note the following about cut-off times for transactions posting to your account: Any withdrawal or transfer done after 4:00 pm will post on the next business day. Any deposit made at the ATM prior to 4:00 pm will post to your account on the same business day; otherwise, it will post the next business day.