The Rosemyr Corporation Review of F&M Bank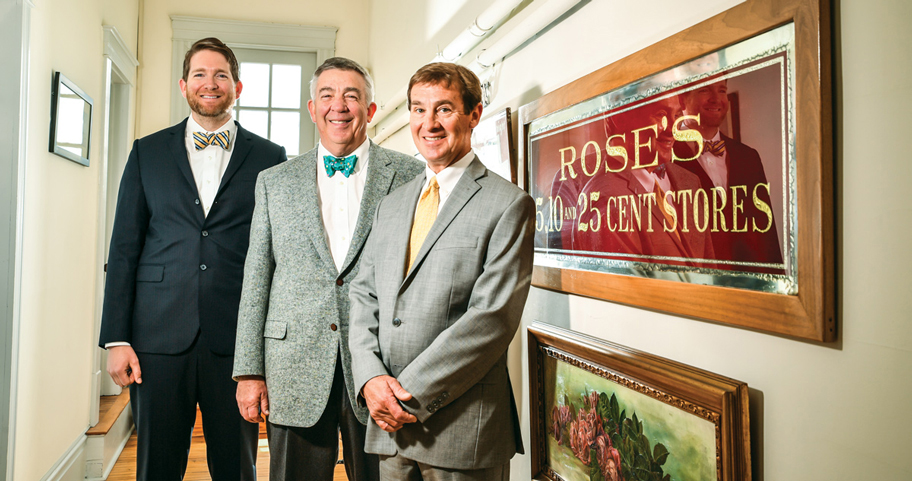 Paul Harvin, George Harvin and Bill Coffey
On the Same Page
Peanut butter and jelly, Romeo and Juliet … some things are just meant to be. That's how it is with The Rosemyr Corporation and F&M Bank.
Like F&M Bank, Rosemyr is a multi-generation family business that has thrived within a culture of ethics and perseverance. A real estate investment company founded in Henderson, NC, The Rosemyr Corporation was launched in 1954 by Paul H. Rose and his wife, Emma Myrick Rose. If Paul's name sounds familiar, it's because he also founded the iconic Rose's 5-10-25 Cent Stores.
Today, the company operates out of a beautifully restored building in downtown Henderson—right across the street from Roses' headquarters. Rosemyr invests primarily in commercial real estate, with an emphasis in self-storage and shopping centers. And, as evidenced by the rehab magic they performed on their own headquarters, the company enjoys renovating older buildings whenever possible.
While Rosemyr has grown substantially over the past 60-plus years, one thing has remained the same: family involvement. Paul Harvin, director of leasing and property management, recently became the fourth generation to join the company in an active management capacity. His father, George Harvin, Rosemyr's managing director, says that the similarities between F&M Bank and Rosemyr are one reason he's so comfortable doing business together. "One of our values is developing good relationships," George says. "I think we're well suited to work with F&M Bank because they certainly have pleasant, professional folks over there."
One of those folks is Senior Commercial Banker Eddie Campbell. George and Eddie's relationship goes back several years, first doing business together when Eddie worked at another financial institution. After he joined F&M Bank, Eddie called on The Rosemyr Corporation again and worked hard to earn their business for a second time.
Bill Coffey, president of The Rosemyr Corporation, has always been impressed with Eddie's work ethic and solution-oriented approach. Not only did he help resurrect a self-storage project Rosemyr had tabled, but he helped secure funding for it as well. "I had spoken to Eddie about some projects we were trying to do," Bill recalls. "He had some suggestions, and I thought, 'Maybe that'll work.' We talked to the owners of the land and were able to negotiate a sale. And then Eddie got that financing in place. He's a great guy to work with and always follows through on things we ask for."
George says that working with a new bank is always dicey. As with any other relationship, it takes a while to get to know each other. And you just hope you like what you see. With F&M Bank, however, the process was an exceptionally smooth one—with unexpected graciousness thrown in. Following Rosemyr's first loan closing, George recalls opening a thank you note from F&M Financial Corporation's late Chairman Emeritus Paul Fisher, a personal touch George calls "unheard of in this day and time."
Such attention to detail signals that clients aren't account numbers; they're now part of the family. And that's a good place to be. "When you're a family company, you're dealing with people you know," he says of both Rosemyr and F&M Bank. "They know you, they trust you, and as long as you're transparent, they know you're looking out for their best interest and vice versa."
Bill says that as a non-family member of Rosemyr, he has a unique view of its operation and is impressed that the values expressed in the corporate offices are more than just talk. They're a standard of conduct communicated to everyone, at every level of the company. He sees the same thing happening at F&M Bank.
So does George, and he appreciates this similarity most of all. "I've learned that F&M Bank prides itself on having a high level of integrity, and that's our number one core value—do the right thing every time," George says.