New Zion Baptist Church Review of F&M Bank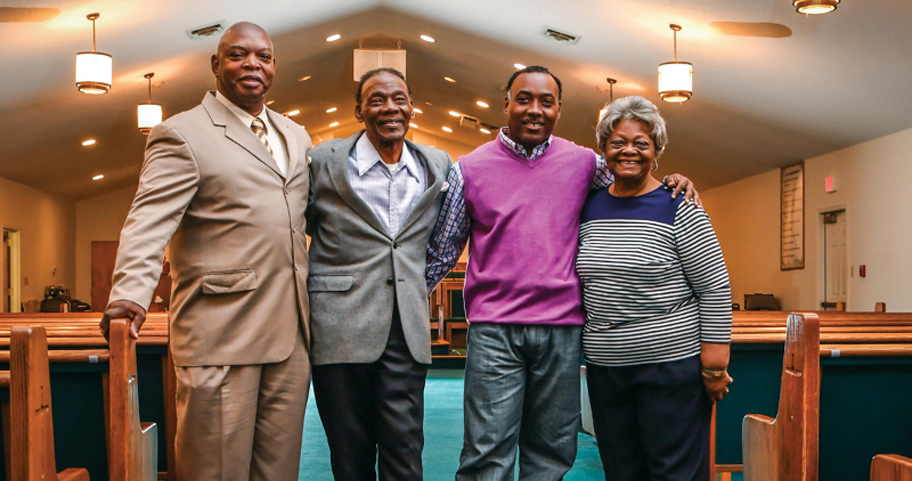 Deacon Gene Craig, Pastor Emeritus Paul Jones, Pastor Patrick Jones and Catherine Krider
New Zion Baptist Church keeps the faith… with a little help from F&M Bank
Who do you trust to finance the Lord's house? If you're the members of New Zion Baptist Church, the only answer is F&M Bank.
When it was time to build a new space for the over 120-year-old congregation, New Zion turned to the institution they knew and trusted. Not only had F&M been the church's go-to bank for at least half a century, but many members also used the local office for their personal banking. "Personal" being the key word. "The bank helped black people in the community when other banks wouldn't," according to Deacon Gene Craig, a lifelong member of New Zion. "In fact, they did that for my father when he needed a car."
With so much money at stake, however, the congregation had to make a smart financial decision—not just an emotional one. As they anticipated, F&M Bank made the loan process easy, and the new church was soon completed. But when an inspection revealed that the building wasn't structurally sound, New Zion realized the real value in having F&M Bank as a lender.
Senior bank leadership, late Chairman Emeritus Paul Fisher and present Chairman and CEO Steve Fisher, helped the church navigate the long road to restitution. The Fishers' hands-on approach to righting that wrong wasn't a surprise to Gene, nor to church treasurer Catherine Krider, member since 1957. "The Fishers and F&M Bank are very much involved in the community," she says. "F&M is a hometown bank, and you really deal with hometown people."
Although that first building had to be torn down and rebuilt, New Zion didn't give up on the dream of a new building. When the congregation was ready to tackle construction again a few years later—this time resulting in a bigger, perfectly sound building—the bank stepped in once more with the necessary loans. "What we went through, they were right there with us," Gene recalls. "They stuck by us the whole time."
The relationship between New Zion Baptist Church and F&M Bank is built not only on shared history, but on shared ideals. F&M Bank's multi-generational family governance is echoed in New Zion's own leadership, which includes two generations of Jones pastors in the pulpit. Both institutions also place a high value on integrity and local involvement. "That's why we're with them now—because of what they've done for the community," Gene says.
Catherine, who also enjoyed F&M Bank's commercial services as a business owner, believes the level of comfort and accessibility she's found is unique. "The fact that there's a bank where you can sit down with someone who will listen to you is very important," she says. "And if they can help you, they will. It's just a good bank."