Harris Morrison Company Review of F&M Bank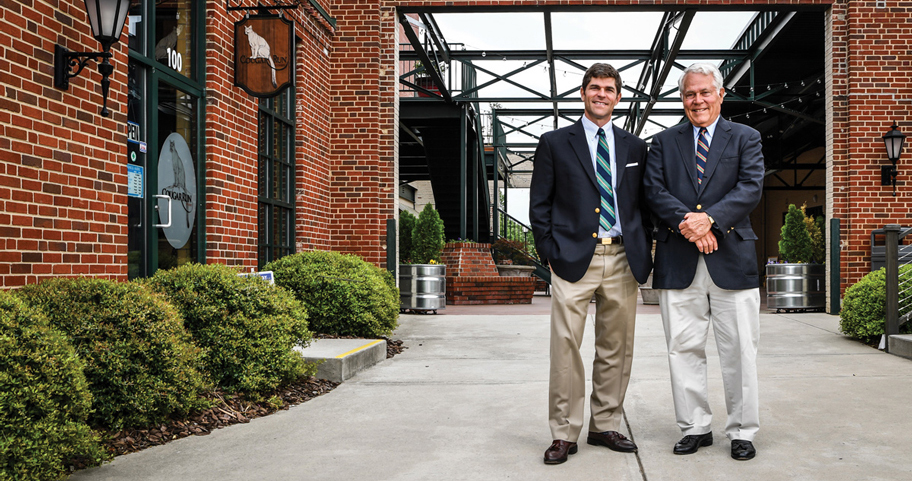 Harris Morrison Company has Written a New Chapter for The Old Creamery
It takes a special kind of vision to look at a vacant Coca-Cola bottling plant adjoining a defunct creamery and see a thriving business center. Luckily for Concord residents, Harris Morrison had that vision.
As founder and principal manager of brokerage management, investment and development firm Harris Morrison Company (HMC), he knew the landmark property at Church and Peachtree streets checked a lot of boxes. It was located on a busy thoroughfare; it was architecturally interesting and, on a personal level; it was a piece of local history Harris believed was worth preserving.
In 2007, along with a group of investors—who happen to be family members—HMC bought what's now known as The Old Creamery and set about developing the 40,000-square-foot facility. Harris' assessment that a market for office space existed in Concord was right on the money. Today, The Old Creamery is a fully leased property brimming with offices and retail businesses. But it didn't happen right away. "As it turns out, we had a slight interruption: the recession," he says wryly.
Thank goodness they had chosen F&M Bank as their lender. That decision is one reason The Old Creamery is now a thriving business center, rather than a still-languishing marker of earlier prosperity. "F&M was patient with us while the economy suffered, and that was huge," he says. "In a time when many banks were calling notes and foreclosing, F&M Bank stuck with us."
F&M Bank not only stayed the course through tough economic times, but it has provided additional financing in recent years for tenant improvements and capital restructuring. But while the Bank has extended credit to HMC a number of times, they've also said "no." "It was a tough pill to swallow at the time," Harris says, but he admits the refusal helped HMC become more disciplined for the long-term.
Will Swink, F&M Bank Cabarrus Market Executive, has been with Harris through the life of The Old Creamery project. Originally, Harris sought out Will because the investor group wanted to work with a community bank—someone they knew—and Concord's F&M Bank office was just up the street from the property. It was a great fit from the start. "One of the things I like about Will and the culture at F&M Bank is that he's very accessible and has speedy responses," Harris says. "And I feel like he advocates for us when he goes to the loan committee."
Will is also Harris' litmus test for the entrepreneur's self-described "crazy ideas." Delicately redirecting Harris if an idea is a bit … unwise … and encouraging him when a proposal seems solid. That kind of honest feedback is something Harris has come to count on. And it's only possible with a loan officer who knows HMC's finances inside and out.
For someone like Harris, who partners with family on business ventures, it's especially important that a bank helps chart a course for success. The financial health of loved ones is at stake, after all. So the fact that the Morrison family has chosen F&M Bank as their lender for additional projects says it all. "We've enjoyed a good working relationship with F&M," Harris concludes. "And I don't see that changing."