Greg Culp Review of F&M Bank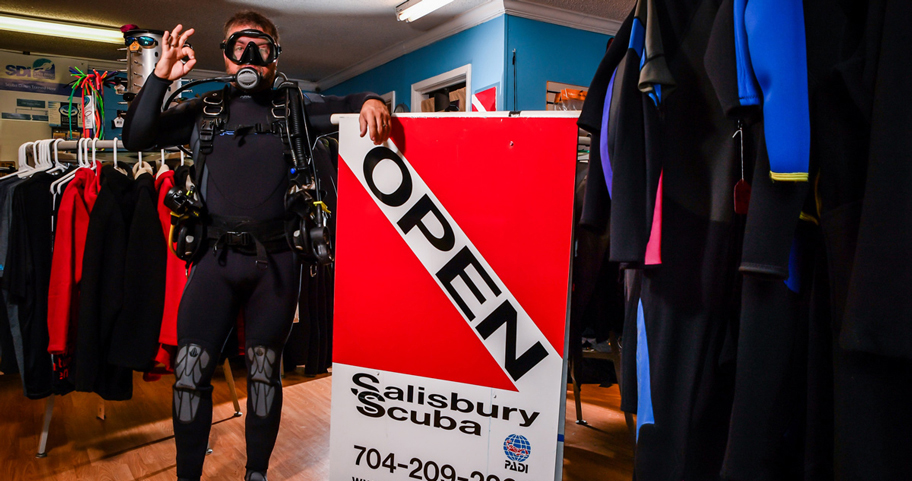 Local Businessman Swaps Diner for Diving
Most locals know Hap's for its great burgers and hot dogs, but they may not have known that long-time owner Greg Culp usually had diving on his mind while he was flipping those burgers and hot dogs. Today, thanks to a little help from F&M Bank, he's finally living his dream as the owner of Salisbury Scuba.
F&M Bank has been by Greg's side since he was 18 years old. He became a lifelong fan when F&M loaned him $2,000 for a motorcycle—after a big bank declined to finance such a "small" loan. On his 21st birthday, Greg financed his first home with F&M Bank, followed by a car, and then Hap's Grill when he was just 22.
The decision seemed like a natural one. Greg had been working at Hap's for eight years already and regularly ran the restaurant for Hap. So Greg took the reins permanently, spending more than two decades behind the grill as owner. But he couldn't shake the desire to make diving a permanent part of his life.
As a teenager, Greg had fallen in love with diving during a YMCA scuba class, though he had to shelve the hobby while raising a family and running a business. But as soon as his kids turned ten—the minimum age for diving—the Culp clan started diving together, and Greg became an instructor. Soon afterward, he opened Salisbury Scuba. He juggled both businesses for a few years, but when long-time employee Jamie Gobbel showed interest in buying Hap's, Greg knew the beloved local landmark would be in good hands. Also, since his ultimate goal is to move to the Florida Keys in hopefully three to four years – this step will help him reach his goal that much sooner.
During those transitions, Greg continued to count on F&M. "I know there are lots of other options out there, but I always use F&M Bank because of the value they bring in their service," he says.
Over the years, there have been plenty of opportunities to demonstrate that value. In addition to Hap's and Salisbury Scuba, Greg financed his rental house business through F&M Bank and invests exclusively with Bruce Sanborn of F&M Investment Services. Even his wife, Stephanie, uses F&M Bank for her LuLaRoe business account.
The perpetual entrepreneur can't imagine life any other way. He gets to decide everything from what gear to stock to which classes he teaches—like helping disabled individuals become divers and, soon, a program for wounded veterans. "I like being in control of my own schedule, making my own plans, and taking vacation when I want," Greg explains. "I call it 'living on island time' at the dive shop. When I'm away from the dive shop, I just put out the sign: 'Gone Diving.'"
He's worked hard since he was 14 years old, and it's gratifying to see it all paying off, he admits. Greg hopes to retire in the scuba field, a dream that may not have been possible without the staunch support of the F&M Bank team. "F&M just makes everything really easy," he says. "From the front line all the way up to Chairman and CEO Steve Fisher. I remember calling him once, and he promptly came to Hap's to talk to me personally."
That kind of attentive service is something he's experienced at every office he visits. His wife, on the other hand, prefers F&M's online platform for her banking needs. They may not agree on the method, but they do agree on the bank. "They've always been there, regardless of what I needed," Greg says of F&M Bank. "And you just don't find that with other banks."