Garman Homes Review of F&M Bank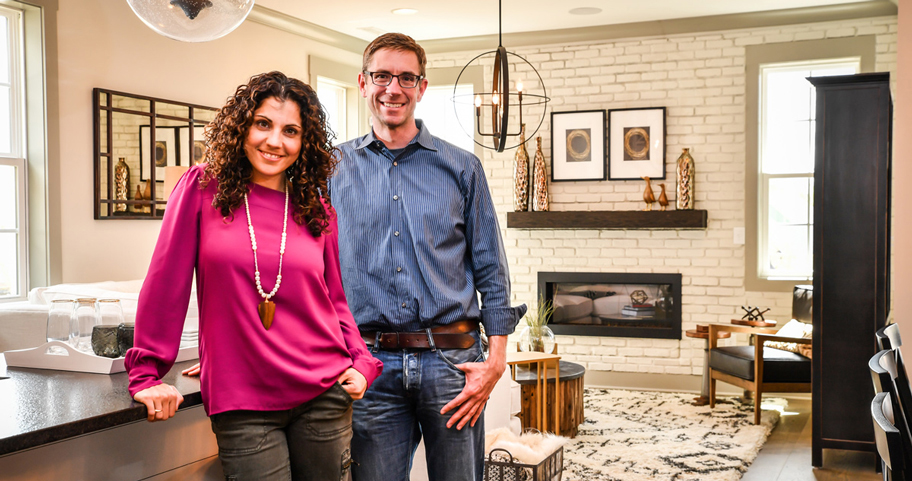 Alaina Money-Garman and Jim Garman
An Unlikely Story
The Garman Homes team on rock stars, motivation, and why the recession was the best thing that ever happened to them
Jim Garman has learned two things in the decade since his company's launch: to expect the unexpected and to count on support from F&M Bank's Director of Lending in the Triangle area, A.J. Critelli.
A veteran employee of a big builder, Jim decided to strike out on his own in 2007. His vision for Garman Homes was to combine the process efficiency he'd learned from a mega builder with a truly personalized client experience.
In a stroke of seemingly bad luck, Garman Homes debuted just before the worst economic crisis since the Great Depression. But in his trademark glass-half-full style, Jim insists the recession was actually good for the fledgling company. After all, in what other economy could he recruit some of the industry's most talented professionals and purchase prime lots?
What he couldn't do, however, was launch a business without a loan. Luckily, Jim found A.J. who offered game-changing support from the beginning, says Garman Homes Division President Alaina Money. "Jim and I are both motivated by people who believe in us, and A.J. has always believed in us no matter what," she attests. "We've felt his faith in us, and it's made us want to perform at a higher level."
As a local, privately-owned company, Garman Homes doesn't have a board. So they use their lenders as a sounding board for ideas with F&M Bank being the most conservative of that group. But rather than being frustrated by the institution's judicious approach, Jim insists it's made Garman better. Alaina agrees, saying that F&M Bank has kept Garman Homes disciplined when they might have been tempted to overspend. As a result, Garman is the picture of financial health.
Over the years, a genuine relationship has developed between F&M Bank and Garman Homes. "F&M has helped grow the company in a very real way," Alaina says, "not just with money, but by understanding Garman's business model and providing crucial feedback."
That model, which includes production and boutique homes, as well as an exclusive number of custom homes, is as much about the "who" as the "what." Garman team members have to be rock stars at their jobs, of course, but being a rock star person is even more important. In fact, Jim and Alaina only recruit positive, make-the-best-of-any-circumstance teammates. That apparently extends to bankers, as well. "A.J. is a perfect example," Jim says. "He's got a great attitude, he's diligent, and that has made a real difference for us."
Garman Homes is proof that a good idea and hard work can pay off in any economy. Noting that the company now turns out an impressive 200 homes a year, Alaina is understandably proud of how far the company has come and grateful for their lender's unwavering support. "You always remember the people who believed in you before you were anything," she says. "And A.J. is one of those people for us."