Speedway Harley-Davidson Review of F&M Bank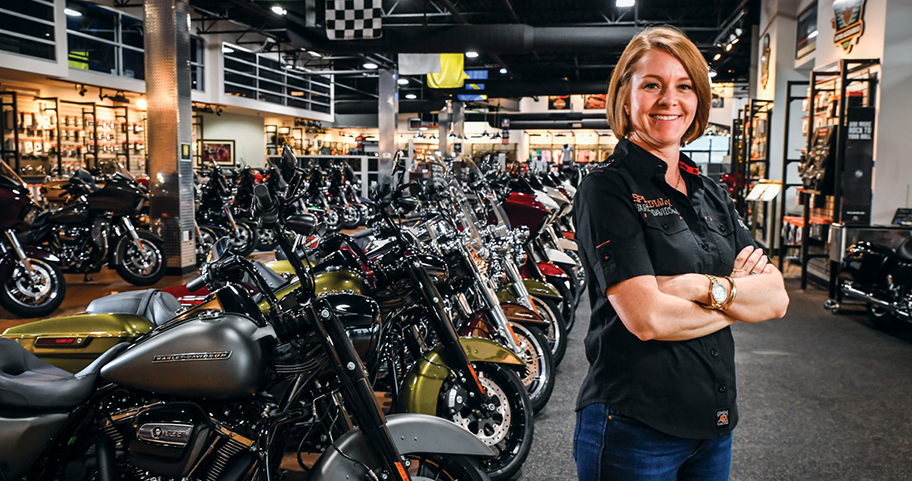 A Career That's a Dream Come True
Aimee Thomas, owner of Speedway Harley-Davidson in Concord, knows how fortunate she is to wake up every morning and look forward to her workday. "I think I'm probably one of the lucky few who get to say that," she says. "I'm truly blessed to do what I do."
Who wouldn't want to spend her days with an amazing staff, fantastic customers, and, of course, Harleys? Thomas has been living her dream since she and her husband, Jay, bought the business from her dad in 2013, but she's been preparing for the adventure since she was a child. Growing up in her family's car dealerships, she often worked 80-hour weeks. So running just one business? Piece of cake.
Especially with support from F&M Bank.
Thomas relies on F&M Bank for both her personal and business banking, including the mortgage on the complex that Speedway Harley-Davidson calls home. Between that real estate interest and her sprawling 35,000-square-foot storefront, she's a full-fledged mogul. But a big-business attitude just isn't her style. The Shelby native prefers a personal touch when it comes to finances; it's what she grew up with and what she'll choose every time, no matter how successful she becomes. "At heart, I'm a small-town girl, and I like a hometown bank," she says.
She's especially drawn to the fact that F&M Bank is a family-owned business that still understands the importance of putting clients first. If she wants to meet with CEO, Mr. Steve Fisher, Thomas says she goes right in to see him. "The red tape and distance between clients and the upper echelon so common in corporate banks just isn't an issue at F&M," she says, which is why she's such a big fan. "I like being able to look someone in the eye when I'm doing business," Thomas explains. "I have that with F&M Bank."
The person she's usually looking in the eye is Lori Huie, who's gone out of her way to make sure the Speedway Harley-Davidson team doesn't have to. If Thomas is swamped, but needs something from the bank, Huie ensures it's delivered. And when Thomas, who chose F&M Bank even though there's no office near her shop, was concerned about the amount of time her employees spent on making deposits, Huie arranged for a courier to pick up the funds. "Whatever we need, they've found a way to deliver," she raves about F&M Bank. "And Lori has spearheaded all of that."
As a mom to twin boys, Thomas appreciates F&M Bank's personalized approach more than ever. With her banking needs taken care of, she's free to concentrate on the business, employees, and customers she loves while at work—and the family she loves at home.
Blending those two worlds is the ultimate dream for Thomas, who knows first-hand the value of family businesses. "I would love to see another generation come through here and have fun with it," Thomas says of her children one day joining the Speedway Harley-Davidson family.
From one family business to another: When your boys are ready, F&M Bank will be there for them, too.